Home > Theatre > Blondel
BLONDEL
---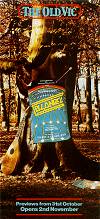 Musical with lyrics and book by Tim Rice and music by Stephen Oliver.
Theatre Royal Bath
Opened 8 September 1983
Closed 24 [??] September 1983
Palace Theatre Manchester
Opened 28 September 1983
Closed 8 October 1983
Old Vic Theatre London
Previewed 31 October 1983
Opened 9 November 1983
Closed 14 January 1984
Aldwych Theatre London
Opened 21 January 1984
Closed 22 September 1984
A musical for the 80's - the 1180's
The rock opera Blondel tells the story of the slightly legendary 12th century minstrel Blondel who refuses to acknowledge that his missing King, Richard the Lionheart, is dead. He sets off round Europe to find Richard, armed only with his lute, his vocal group the Blondettes and a song nobody likes much; assisted only by the lovely Fiona, hampered by the evil Prince John, the Duke of Austria and a hired assassin. Before long, much more than Blondel's musical ambitions are at stake.
---
Cast
---
Blondel
PAUL NICHOLAS
Fiona
SHARON LEE HILL
Blondettes
CHRISTINE CARTWRIGHT
RACHEL IZEN
JAN LLOYD
Prince John
DAVID BURT
Baron Reg
AIDAN COOK
Baron Harvey
PATRICK LONG
King Richard
STEPHEN TATE
Assassin
CHRIS LANGHAM
Newspaper Seller
DAVID ALDER
Duke of Austria
KEVIN WILLIAMS (replaced by
CHRISTOPHER BECK at Aldwych)
Fraulen Schwartzenburger
TRACY BOOTH
Archbishop of Canterbury
ROGER LLEWELLYN
Monks
CANTABILE:
(RICHARD BRYAN,
STEWART COLLINS,
NICHOLAS IBBOTSON &
MICHAEL STEFFEN)
Coutiers, Soldiers
SIMON BOWMAN
NEIL BRAITHWAITE
SALLY COOPER
MARIA FRIEDMAN
and members of the cast
---
Production Team
---
| | |
| --- | --- |
| Director | Peter James |
| Musical staging | Anthony van Laast |
| Designs | Tim Goodchild |
| Lighting | Andrew Bridge |
| Sound | Martin Levan |
| Musical Director | Martin Koch |
---
Musical Numbers
---
ACT ONE
Monks Introduction (1)
Monks
Blondel and Fiona (2)
a: All I Need Are Words
b: How Long Can Someone Wait
c: I'm A Monarchist
d: Artists Are Tragic and Sensitive Souls
Blondel, Fiona, Monks, Blondettes
The Ministry of Feudal Affairs (3)
a: Opening Ensemble
b: Fiona's Plea to John
c: Richard's Intervention
d: Economic Acrostic
e: Crusade Rally
Monks, Fiona, John, Richard and Company
The Least Of My Troubles (4)
Blondel, Fiona and Blondettes
Lionheart(5)
Monks, Richard, John and Company
No Rhyme For Richard (6)
John, Blondel, Fiona, Baron Reg, Monks
Trio
Blondel, Fiona, John
Assassin's Song (7)
John, Assassin
Running Back For More (8)
Monks, Blondettes, Fiona
ACT TWO
Blondel in Europe (9)
Assassin, Blondel, Fiona, Blondettes, Monks and Company
Saladin Days (10)/ I Can't Wait To Be King (11)
Monks, Richard, John
The Inn At Salzburg (12)/ Blondel's Search (13)
Blondel, Fiona, Newspaper Seller
The Duke of Austria's Quarters (14)
Fiona, Duke of Austria
The Cell (15)
a: Reunion
b: Death of a Statesman
c: Tribute to a Statesman
d: The Wrong Train
Blondel, Assassin, Richard, Fiona, Duke
Westminster Abbey (16)
a: John's Coronation
b: Richard's Return
Monks, John, Archbishop, Richard, Blondel, Company
I'm a Monarchist (reprise) (17)
Blondel, Fiona, Blondettes and Company
Running Back for More (reprise)
Blondel, Fiona
The English Stage
Company
The last song was added to the running list in the Aldwych Theatre programme. Numbers in brackets indicate track number if on cast recording
---
Notes
---
The performance on 8 November 1983 was a Special Gala Performance staged in the presence of Her Majesty Queen Elizabeth, the Queen Mother.
Blondel was the opening performance of the newly refurbished Old Vic Theatre and was the first of that season's subscription season - an idea that the new owner, Ed Mirvish, had imported from his theatre in Toronto, Canada where he claimed that 85% of seats where sold in advance to subscribers.
---
Cast Recording
---

---
Links
---
---
All content on About Maria is archived here without profit or payment to those who have expressed a prior interest in reviewing the included information for personal use, non-profit research and educational purposes only. This is an unofficial webpage. Contact.