Home > Theatre > Butterflies are Free
BUTTERFLIES ARE FREE
---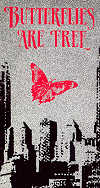 A romantic comedy by Leonard Gershe.
No 1 UK Regional Tour
1988/89 [Theatres/ Dates Unknown]
Don Baker is a great guy. He's witty, well-read, good-looking, plays a 'mean' guitar and has a 'neat' flat. He's a small-town boy in a big city, he's survived the death of his father, an overbearing mother, and a broken heart. Just one thing, don't mention it because its not a problem, he's blind.
Butterflies Are Free is set in New York, at the end of the Swinging Sixties and shows Don Baker on his first day in his new flat. He's escaped his mother who doesn't believe he's capable of living on his own, he's escaped the claustrophobia of Scarsdale, his home town, and he's trying to forget the girl who gave him the confidence to leave and then walked out of his life. The girl next door is Jill Tanner, as wild and pretty as a Butterfly, flitting from experience to experience, sipping and moving on. The play follows their playful love affair. Don revelling in her vitality, she drawing strength from his sensitivity. Their affair is full of warm, knock-about repartee. We follow it through the obvious difficulties, from his mother's hilariously catty objections, to Jill's final attempt to end the affair to stop Don's increasing reliance on her. We see Don's courage at the end as he pulls himself out of the mire of self-pity and emerges stronger, and more self-reliant.
Butterflies Are Free is a warm, optimistic, very funny comedy. It's a show that leaves the audience glowing, laughing and ready to face tomorrow.
---
Maria on Butterflies are Free
---
"I had an agent who filtered auditions for me but not someone who could guide my career. So I just took the jobs I was offered. They weren't all singing jobs. I had done lots of straight theatre before, but I never got auditions with the big companies, so I did the less exciting stuff, things like Butterflies are Free." [read full interviews]
---
Cast
---
| | |
| --- | --- |
| Don Baker | PETER O'BRIEN |
| Jill Tanner | MARIA FRIEDMAN |
| Mrs Baker | URSULA SMITH |
| Ralph Austin | OWEN BRENMAN |
---
Production Team
---
| | |
| --- | --- |
| Director | Lou Stein |
| Designs | Geoff Rose |
| Lighting | Spike Gaden |
---
Pictures
---
---
Song Lyrics
---
I knew the day you met me,
I could love you if you let me,
Though you touched my cheek
And said how easy you'd forget me,
You said, "Butterflies are free,
And so are we."
On that velvet morning,
When our love was forming,
I said it wouldn't hurt me
If you left without warning.
I said, "Butterflies are free,
And so are we."
And you made me understand
Right from the start,
I could hold your gentle hand,
But never hold your heart.
So why the crying?
Were our brave words lying
When we both agreed
There'd be no tears in our goodbying?
Butterflies are free.
Why aren't we?
(Words and music by Steve Schwartz)
---
Links
---
---
All content on About Maria is archived here without profit or payment to those who have expressed a prior interest in reviewing the included information for personal use, non-profit research and educational purposes only. This is an unofficial webpage. Contact.