Home > Recordings > Cabaret
CABARET
---
Studio Cast Recording of the musical with music by JOHN KANDER, lyrics by FRED EBB and book by JOE MASTEROFF based on Christopher Isherwood's 'Berlin Stories' and John van Druten's play 'I Am A Camera'.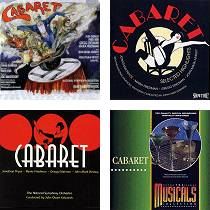 Promoted as the 'first complete recording' this recording has been released in a number of versions. The full double CD set (top left), a highlights version (top right and bottom left) and a version for 'The Musicals Collection' magazine (bottom right).
Recorded at Abbey Road Studios, London
12 to 23 November 1993
---
Cast
---
M.C.
JONATHAN PRYCE
Fraulein Schneider
JUDI DENCH
Herr Shultz
FRED EBB
Ernest
MARCUS ALLEN COOPER
Sally Bowles
MARIA FRIEDMAN
Clifford Bradshaw
GREGG EDELMAN
German Youth
JOHN MARK AINSLEY
Kit Kat Club Girl: Maria
LOUISE GOLD
Kit Kat Club Girl: Lulu
GAY SOPER
Kit Kat Club Girl: Rosie
CLAIRE MOORE
Kit Kat Club Girl: Fritzie
JACQUELINE DANKWORTH
Kit Kat Club Girl: Texas/
Fraulein Kost
CAROLINE O'CONNOR
Kit Kat Club Girl: Frenchie
CLARE BURT
Company
MICHAEL CANTWELL
NICHOLAS COLICOS
KATE COPSTICK
JACKIE CRAWFORD
DOMINIC CURTIS
GEOFFREY DALLAMORE
LUCY DIXON
ROBERT FARDELL
PHILIP GRIFFITHS
MEGAN KELLY
BRUCE OGSTON
HOWARD SAMUELS
SAMANTHA SHAW
GARETH SNOOK
DAWN SPENCE
JOHN STEFFANINCK
NADIA STRACHAN
JOSIE WALKER
NICHOLAS WARNFORD
JAMES WREN
National Symphony Orchestra
conducted by JOHN OWEN EDWARDS
---
Production Team
---
| | |
| --- | --- |
| Recording Enginner | JOHN KURLANDER |
| Produced by | JOHN YAP |
---
Musical Numbers
---
Willkommen * #
M.C. and company
So What
Fraulein Schneider
Donít Tell Mama * #
Sally and Kit Kat Club Girls
Telephone Song * #
Clifford and Company
Perfectly Marvellous * #
Sally and Clifford
Two Ladies * #
M.C., Maria and Rosie
It Couldnít Please Me More
Herr Shultz and Fraulein Shcneider
Tomorrow Belongs To Me * #
German Youth with Men
Why Should I Wake Up * #
Clifford and Sally
Sitting Pretty * #
MC and Kit Kat Club Girls
Married
Herr Shultz and Fraulein Shneider
Fruit Shop Dance
Orchestra
Meeskite
Herr Shultz with Sally and Company
Tomorrow Belongs To Me (Reprise)
Fraulein Kost, Ernest and Company
Entríacte
Orchestra
Kick Line
Orchestra
Married (Reprise)
Herr Shultz
If You Could See Her * #
M.C.
What Would You Do?
Fraulein Shcneider
Sallyís Revolt
Clifford and Sally
Cabaret * #
Sally
Break Up
Sally and Clifford
Finale Ultimo *
Clifford, M.C., Herr Shultz, Fraulein Schneider, Sally and Company
Curtain Calls
Company
Exit Music
Orchestra
Bonus Tracks: From the 1987 Broadway revival
Money '87' #?
M.C. and Company
Donít Go
Clifford and Sally
I Donít Care Much
M.C.
Bonus Tracks: From the Motion Picture
Mein Herr
Sally and Kit Kat Club Girls
Maybe This Time * #
Sally
Money Money #?
M.C. and Sally
Tiller Girls
Kit Kat Club Girls
#
Highlights CD
*
Musicals Collection CD
---
Quotes from the Press
---
"Maria Friedman has the difficult task of competing with memories of Liza Minnelli, but adds the requisite touch of winsome English charm on 'Don't Tell Mama' and the rest." Clive Davis, The Sunday Times (4 January 1998)
"Maria Friedman is careful not to make Sally too much of a star, a trap Liza Minnelli fell into in the movie. Miss Bowles is an interwar dropout, more talented in the bedroom than the green room, as Friedman suggests with a husky and sexy delivery." John Higgins, The Times (18 December 1997)
---
Links
---
---
All content on About Maria is archived here without profit or payment to those who have expressed a prior interest in reviewing the included information for personal use, non-profit research and educational purposes only. This is an unofficial webpage. Contact.