Home > Concerts > London Concert For Peace
LONDON CONCERT FOR PEACE
---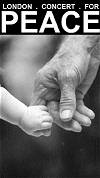 A Charity Concert - Celebrating the joy of life.
Artists from Opera, Theatre, Ballet, Comedy and Music, plus journalists and writers, contribute their thoughts and talents to the concern for peace in what promises to be a very special evening at the Theatre Royal, Drury Lane.
Proceeds to be donated to Red Cross, Oxfam, Care and Amnesty International.
The Theatre Royal Drury Lane
Catherine Street Covent Garden
London WC2
Sunday 23rd March 2003 at 7.30pm
Concert For Peace Auction: A series of prints, signed by the actors themselves - including Maria Friedman - are up for auction.
---
Musical Numbers and Cast
---
PART ONE
Anything Goes
(Anything Goes: Cole Porter)
Sally Ann Triplett
and the RNT Company
(cond. Derek Barnes)
On a Bright Day
(Mayo Angelou)
Josie Lawrence
Dome epais le jasmine
("Lakme" lyrics by Condinet & Gille, music by Delibes, arranged by Derek Barnes)
Catherine Griffiths
Charlotte Kinder
Zenaida Yanowski (Ballet soloist)
Suicide in the trenches
(Siegfried Sassoon)
Sir Ian McKellen
Bring Him Home
(Les Miserables: Alain Boublil & Claude-Michel Schonberg, lyrics by Herbert Kretzmer)
Hans Peter Janssens
(cond. Steve Brooker)
Stop the War Coalition Speech
John Rees
Let but the voice
(Robert Herrick)
Emily Bruni
I Could Have Danced All Night
(My Fair Lady: Alan Jay Lerner & Frederick Lowe)
Joanna Riding
Quotes
Alex Hanson
Rebecca Callard
Simon Green
Janet Henfrey
Rupert Wickharn
I've Still Got My Health
(Cole Porter)
Kim Criswell
(cond. Derek Barnes)
To lanthe
(Percy Bysshe Shelley)
Simon Day
Funny Face
(My One and Only: George & Ira Gershwin)
Hilton McRae & Jenny Galloway
(cond. Derek Barnes)
Letter to Danie
(Fergal Keene)
Alex Jennings
May We Build on The Rock
Fox School, Notting Hill
Nevertheless
(John Smith)
Juliet Aubrey
Jemma Redgrave
Alan Cox
David Tennant
Till We Reach That Day
(Ragtime: Stephen Flaherty & Lynn Ahrens)
Ragtime Company
(Maria Friedman)
(cond. David Shrubsole)
PART TWO
Let Us Love In Peace
(Andrew Lloyd Webber & Ben Elton)
Clive Rowe
Alex Hanson
Janie Dee
Rhashan Stone
Craig Purnell
The Maida Vale Singers
(cond. Derek Barnes)
Two Harold Pinter Poems
(?? & The Bombs)
Michael Elwyn
Alison Steadman
Lysistrata
(Tony Harrison)
Amanda Stephens Lee
Saskia Wickham
Where have all the flowers gone?
(Pete Seeger)
Sian Phillips
(Piano David Shrubsole)
Letters from Bagdad
Maggie Steed
Lindsay Duncan
Edward Petherbridge
Jason Morrell
Tell Me Its Not True
(Blood Brothers: Willy Russell)
Linda Nolan and the
Blood Brothers Company
(cond. Rod Edwards)
20 Tons Of TNT
(Flanders & Swann)
Stefan Bednarczyk
Thank You Speech
Janie Dee
Being Alive
(Stephen Sondheim)
John Barrowman
(cond. Derek Barnes)
Mon coeur s'ouvre a ta voix
(Samson et Dalila: Saint-Saens & Ferdinand Lernaire)
Sally Burgess
(cond. Derek Barnes)
Habanera
(Carmen: Bizet, Meilhac & Halevy)
Sally Burgess
(cond. Derek Barnes)
The Prophet
(Kohlil Gibran)
Samantha Bond
Adrian Lester
Henry V
(Shakespeare)
Mark Rylance
Cabaret
(Cabaret: Kander and Ebb)
Dame Judi Dench
(piano Michael Haslam)
Is Love
(Mayo Angelou)
Finty Williams
Seasons Of Love
(Rent: Jonathan Larson)
Wendy May Brown
Rohan Reckord
Full Company
(cond. John Maher)
---
Production Team
---
Devised and Produced by
Janie Dee
Directed by
Ian Talbot
Lighting by
Hugh Woolridge
Ross Williams
Choreography by
Jason Gardiner
With the
City of London Philharmonic
---
Notes
---
Arranged at just four weeks notice, Janie Dee admitted that, by the Monday prior to the concert just 250 tickets had been sold - the actual attendance on the day was around 1,200 (the theatre seats approximately 2,200).
---
Pictures
---
---
Quotes from the Press
---
The Independent 24 March 2003
"Last night, Dame Judi Dench reprised one of her early stage roles and sang the title song from Cabaret. Hand on hip, she slung it forth with a sardonic pugnacity. Sung under the shadow of Hitler in the Kander and Ebb musical, this summons to hedonism is also a biting indictment of heedlessness to suffering, and to the abuse of power. It is under more complicated shadows that it achieves its irony here, as a highlight in the excellent Concert for Peace at the Theatre Royal, organised by Janie Dee... The evening unfolded as a blend of rip-roaring musical numbers to reminders of the fragility of life..." Paul Taylor, read full review.
The London Evening Standard 24 March 2003
"...A 1,200-strong audience was treated to a never-to be repeated West End performance last night - the London Concert For Peace. Dame Judi Dench stole the show, belting out a rip-roaring rendition of Cabaret... There was also a stirring performance from the cast of new musical Ragtime, led by Maria Friedman..." Luke Leitch, read full review.
---
Links
---
---
All content on About Maria is archived here without profit or payment to those who have expressed a prior interest in reviewing the included information for personal use, non-profit research and educational purposes only. This is an unofficial webpage. Contact.