Home > Concerts > Follies in Concert
FOLLIES IN CONCERT
---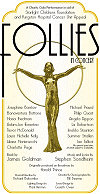 An 'all-star' charity concert of the Broadway musical with book by James Goldman and music and lyrics by Stephen Sondheim.
London Palladium London
Sunday 4 February 2007 at 7.15pm
Tickets: £150.00 to £25.00
Box Office: 0870 167 0002
Follies in Concert will benefit Starlight Childrens Foundation and Kingston Hospital Cancer Unit Appeal.
Written by James Goldman with music and lyrics by Sondheim, the score of Follies contains some of Sondheim's best-loved songs including Losing My Mind, Broadway Baby and I'm Still Here. The show takes place in a soon-to-be demolished theatre, where the impresario throws a reunion party for the showgirls who performed in revues there from 1918-41. The reunion brings back together former showgirls Sally and Phyllis, whose relationships with their husbands Ben and Buddy are affected by events that took place 30 years ago. The musical was first produced on Broadway in 1971, and was seen at London's Shaftesbury theatre in a reworked version in 1987. It was later revived at the Royal Festival Hall for a month long season in 2002.
---
Cast
---
Please all cast are subject to availability
Sally Durant Plummer
MARIA FRIEDMAN
Phyllis Rogers Stone
LIZ ROBERTSON
Ben Stone
PHILIP QUAST
Buddy Plummer
MICHAEL PRAED
Young Sally
LAURA MICHELLE KELLY
Young Phyllis
SUMMER STRALLEN
Young Ben
ADAM-JON FIORENTINO
Young Buddy
NEIL McDERMOTT
Heidi Schiller
JOSEPHINE BARSTOW
Young Heidi
CHARLOTTE PAGE
Roscoe
BONAVENTURA BOTTONE
Solange La Fitte
LILIANE MONTEVECCHI
Hattie Walker
IMELDA STAUNTON
Dimitri Weismann
IAN TALBOT
Vincent
PAUL KILLICK
Vanessa
ANGELA RIPPON
Radio announcer
TREVOR McDONALD
PLUS SPECIAL GUEST STARS
---
Production Team
---
| | |
| --- | --- |
| Producer | RICHARD DOUGLAS PRODUCTIONS |
| Director and Choreographer | BILL DEAMER |
| Musical Director | RICHARD BALCOMBE |
| Lighting Designer | MARK NIMMIN |
| Sound Designer | GARETH OWEN |
---
Musical Numbers
---
Subject to confirmation
ACT ONE
Beautiful Girls
Roscoe and Company
Don't Look at Me
Sally and Ben
Waiting for the Girls Upstairs
Buddy, Ben, Phyllis, Sally, Young Buddy, Young Ben, Young Phyllis, Young Sally
Rain on the Roof
The Whitmans
Ah! Paree
Solange
Broadway Baby
Hattie
The Road You Didn't Take
Ben
Bolero d'Amour
Vincent and Vanessa
In Buddy's Eyes
Sally
Who's That Woman
Stella and Company
I'm Still Here
Carlotta
ACT TWO
Too Many Mornings
Ben and Sally
The Right Girl
Buddy
One More Kiss
Heidi and Young Heidi
Could I Leave You
Phyllis
Loveland Sequence
The Folly of Love
Loveland
Ensemble
The Folly of Youth
You're Gonna Love Tomorrow
Young Ben, Young Phyllis
Love Will See Us Through
Young Buddy, Young Sally
Buddy's Folly
The God-Why-Don't-You-Love-Me-Blues
Buddy
Sally's Folly
Losing My Mind
Sally
Phyllis's Folly
The Story of Lucy and Jessie
Phyllis
Ben's Folly
Live, Laugh, Love
Ben
---
Notes
---
---
All content on About Maria is archived here without profit or payment to those who have expressed a prior interest in reviewing the included information for personal use, non-profit research and educational purposes only. This is an unofficial webpage. Contact.