Home > Theatre > Ghetto
GHETTO
---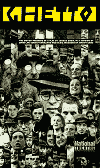 A play by Joshua Sobol, in a version by David Lan with lyrics and music by inhabitants of the Vilna Ghetto, translated and arranged by Jeremy Sams
Olivier Theatre National Theatre London
Previewed 19 April 1989
Opened 27 April 1989
Closed 9 November 1989
Played in repertory
Ghetto is the story of the Vilna ghetto theatre, during the Nazi occupation of Lithuania. Written by the Israeli playwright Joshua Sobol, Ghetto was inspired by an actual historical theatre which operated in the Jewish ghetto from 1941 until 1943. Despite the protests claiming "No theatre in a graveyard," the Vilna Ghetto theatre responded to despair with song, satire, and - amazingly - criticism of the Nazi regime, proving that theatre can provide courage and hope even amidst atrocity.
---
Maria on Ghetto
---
"It was after Ghetto that I decided I was passionate about what I did and that I didn't want to do anything else. Up until then I had loved what I did and always took it seriously... I met Nick Hytner (the director) and I suddenly felt that being an actor wasn't just singing, dancing and entertaining, that you could really communicate something to people. It is too huge a thing to say that it can change people's lives because it doesn't. But it enhances them, makes people think. I felt that I could be involved in something that was testing and demanding, both for myself and, hopefully, the audience." [read full interview]
---
Cast
---
Srulik
JONATHAN CULLEN
Kittel/ Dr Paul
ALEX JENNINGS
Hayyah
MARIA FRIEDMAN
Djigan, the dummy
LINDA KERR SCOTT
Gens
JOHN WOODVINE
Weiskopf
ANTHONY O'DONNELL
Kruk/
Sasha Molevsky
IVAN KAYE
Yosef Gerstein
DAVID SCHNEIDER
Judith Azra
NICOLA SCOTT
Oomah Orshevskaya
ANGELA PLEASENCE
Yitshok Elmis
JON RUMNEY
Avrom Bliakher
NICOLAS BLANE
Luba Grodzenski
LAURA SHAVIN
Elia Geivish/
Jewish Police Officer
MARK LOCKYER
Yitzhok Geivish/
Jewish Police Officer
GLYN PRITCHARD
Yankel Polikanski/
Jewish Police Officer
MARK ADDY
Alexander Gertner
JO STONE-FEWINGS
Shabse Gottlib
SANDY BURNETT
Sonia Grudbery
SANDRA BUTTERWORTH
Haikin
VLADIMIR ASRIEV
Yakob Iris
GED McKENNA
Helena Lares
JILL STANFORD
Yitzhok Lipovsk/
Jewish Police Officer
JOHN FITZGERALD JAY
Shmuel Mandelblit
OLIVER BEAMISH
Nemi Nadir
JUDITH SIM
Baruch Natan/
Jewish Police Officer
TREVOR SELLERS
Yakob Nemi
MICHAEL O'CONNOR
Moishe Norvid
MERLIN SHEPHERD
Leah Rudkov
JENNIFER HILL
Zigmund Samberg
DAVID ROACH
Henry Taytlboym
KEITH WOODHAMS
Avrom Valter
BRIAN GREENE
Avrom Wittenberg
TAM DEAN BURN
Polia Wittenberg/
Jewish Police Officer
CHRISTOPHER ARMSTRONG
Gestapo Guard/
Jewish Police Officer
MELVYN BEDFORD
Gestapo Guard
TOBY E BYRNE
Gestapo Guard
CIARAN McINTYRE
---
Production Team
---
| | |
| --- | --- |
| Director | Nicholas Hytner |
| Designs | Bob Crowley |
| Lighting | David Hersey |
| Choreography | Jane Gibson |
| Musical Director | Sandy Burnett |
| Sound | Richard Borkum |
---
Songs
---
Unter dayne vayse shtern
(In the Sky the Stars All Glisten)
Music and Lyrics by Brodno and Sutzkever
Hot zikh mir di shikh tserisn
(Someone Stole My Overcoat)
Vilna Ghetto Song
Vey tsu di teg
(A Curse on the Day)
Music and Lyrics by M Veksler and Katriel Broide
Yidishe brigades
(Yiddish brigades)
Vilna Ghetto Song
Isrulik
Music and Lyrics by M Veksler and L Rosenthal
Friling
(Springtime)
Music and Lyrics by A Brodno and S Katcherginski
Mir lebn eybik
(We'll Live Forever)
Music and Lyrics by traditional and L Rosenthal
Zog nit keynmol
(Never Say...)
Music and Lyrics by Jewish Partisan Song and H Glik
All songs translated and arranged by Jeremy Sams
---
Pictures
---
---
Notes
---
On the opening night of Ghetto, Friedman's father sent her a telegram. It read: "Your grandparents love you and thank you for keeping their spirit alive." Her grandmother had been born in Vilnius.
---
Quotes From The Press
---
"... Maria Friedman as Hayyah, has a sweet, caressing voice that is heart-breaking in its plaintive melodic appeal..." Milton Shulman, The London Evening Standard (28 April 1989)
"...Just to see that remarkable actress-singer Maria Friedman being forced to gratify her persecutor's desire to hear decadent American jazz by singing 'Swanee' is itself a sermon on the survival of human dignity. Miss Friedman turns it into a defiant anthem for dispossessed aliens everywhere. And when the ragged company end their elaborately-choreographed routine, the effect is os heroic, so heart-breaking, it seems an impertinence to applaud..." Jack Tinker, The Daily Mail (28 April 1989)
"...The nostalgic songs hauntingly sung by Maria Friedman..." Paul Taylor, The Independent (29 April 1989)
"...Ghetto consists of a series of short scenes intersperesed with songs, beautifully performed by the huge company with the frail-looking Maria Freidman as a powerfully eloquent solost. They are haunting, heart-wrenching numbers, sometimes sad, sometimes expressing a fierce pride and joy in Jewish culture. They seem still more poignant when one remembers that they were actually written by the real-life inhabitants of the Vilna ghetto..." Charles Spencer, The Daily Telegraph (29 April 1989)
"...Nicholas Hytner's remarkable production enters the very soul of a people whose inspiring and courageous will to survive is movingly encapsulated in Maria Friedman's heart-wrenching performances as Hayyah, the singer..." Clive Hirschhorn, The Sunday Express (30 April 1989)
"...Jeremy Sams has arranged the words and music of songs written in the ghettos of Vilna and elsewhere, which emerge, particularly in Friedman's soft, grainy and expressive soprano, with marvellous simplicity and power. No amplification, but the real, fragile, indestructable thing... Jennings and Friedman head a large, excellent company with superlative assurance." Michael Ratcliffe, The Observer (30 April 1989)
"...There are memorable performanes from Maria Friedman, Alex Jennings, John Woodvine and Linda Kerr Scott, among others..." Kenneth Hurren, The Mail on Sunday (30 April 1989)
---
Links
---
---
All content on About Maria is archived here without profit or payment to those who have expressed a prior interest in reviewing the included information for personal use, non-profit research and educational purposes only. This is an unofficial webpage. Contact.