Home > Concerts > Greatest Love Gala 2000
THE GREATEST LOVE GALA 2000
---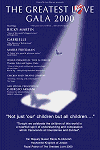 A Royal Gala Charity Concert and Fashion Show in the presence of Queen Rania of Jordan.
Royal Albert Hall London
Thursday 11 May 2000
Produced by The Greatest Love Foundation in support of the NSPCC (UK), The Chicken Shed Theatre Company (UK), St. Jude Childrenís Research Hospital (USA) and LíHopital de la Sainte-Famille (Bethlehem).
---
Cast
---
The cast included
RICKY MARTIN
GABRIELLE
YUSUF ISLAM (Cat Stevens)
DAME DIANA RIGG
MARIA FRIEDMAN
THOMAS EDUR
AGNES OAKS
CHILDREN OF THE CHICKEN SHED THEATRE COMPANY
---
Notes
---
The Fashion Show featured a preview of Giorgio Armani's 2000/2001 autumn/winter collection.
Thomas Edur and Agnes Oaks from the English National Ballet danced the World Premiere of the Pas de Deux 'This is Forever' from Symphonic Fame (as in Fame The Musical, composed by Steve Margoshes.
Each of the four charities received £46,234.73 from the gala proceeds.
---
Links
---
---
All content on About Maria is archived here without profit or payment to those who have expressed a prior interest in reviewing the included information for personal use, non-profit research and educational purposes only. This is an unofficial webpage. Contact.