Home > Theatre > Lady in the Dark
Home > Recordings > Lady in the Dark
LADY IN THE DARK
---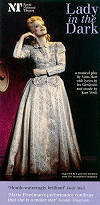 A musical play by Moss Hart with lyrics by Ira Gershwin and music by Kurt Weill (1941).
Lyttelton Theatre National Theatre London
Previewed 3 March 1997
Opened 11 March 1997
Closed 2 August 1997
(played in repertory)
Cast Recording
12 to 15 July 1997
This was the show's London West End premiere.
Fashion editor Liza Elliot (Maria Friedman), a woman struggling to balance her career and personal life, visits a psychiatrist in an effort to reslove her feelings of indecision and to explain the extraordinary dreams she's been having about three men: Kendall Nesbitt (Paul Shelly), her lover and professional patron; Randy Curtis (Steven Edward Moore), a glamorous, but shallow movie star; and Charley Johnson (Adrian Dunbar), a cantankerous advertising manager.
All the songs, except one, are presented in four dream sequences, linked together with the haunting ballad 'My Ship'. Other memorable songs include 'The Saga of Jenny' and the tongue-twisting 'Tschaikowsky'.
---
Maria on Lady in the Dark
---
"I loved the idea of a play set in the 1940s with the world at war and a woman in a position of authority running a very successful company and finding that her life, her work and her relationships were all imperilled because of her emotional state. It has resonance and relevance for today, too. What isn't so radical today is that she takes her problems to a psychiatrist. Then it was absolutely new ground. Her fantasies become realities in her dreams and you are not quite sure which is which as the two worlds collide. Nearly all the music happens within the dreams; the rest of it is like a straight play." [read full interview]
---
Cast (in order of speaking)
---
Dr Alexander Brooks
HUGH ROSS
Miss Bowers
CHARLOTTE COLLINGSWOOD
Liza Elliot
MARIA FRIEDMAN
Miss Foster
ASHEIGH SENDIN
Miss Stevens
LORI HALEY FOX
Maggie Grant
CHARLOTTE CORNWELL
Alison Du Bois
SUMMER ROGNLIE
Russell Paxton
JAMES DREYFUS
Charley Johnson
ADRIAN DUNBAR
Randy Curtis
STEVEN EDWARD MOORE
Kendall Nesbitt
PAUL SHELLEY
Ben Butler
JEREMY FINCH
Suitors/Office Staff
PETER CORMICAN
STEPHEN MATTHEWS
JOE RICE
DUNCAN SMITH
RUSSELL WILCOX
Helen
LOUISE DAVIDSON
Ruthie
MARIA KESSELMAN
Liza as a child
EMMA DEIGMAN/
CARLA GOODMAN
---
Production Team
---
| | |
| --- | --- |
| Director | Francesca Zambello |
| Settings | Adianne Lobel |
| Costumes | Nicky Gillibrand |
| Lighting | Rick Fisher |
| Music Director | Mark W Dorrell |
| Choreographer | Quinny Sacks |
| Original Orchestrations | Kurt Weill |
| Adapted for smaller ensemble | Terry Davies |
---
Musical Numbers
---
| | |
| --- | --- |
| ACT ONE | |
| Glamour Dream | |
| Oh Fabulous One In Your Ivory Towers | Liza Elliot's Suitors |
| The World's Inamorata | Liza and her maid |
| One Life to Live | Liza and her chauffeur |
| Girl of the Moment | Ensemble |
| It Looks Like Liza | Ensemble |
| Wedding Dream | |
| Mapleton High Chorale | The High School Graduates |
| This is New | Randy Curtis and Liza |
| The Princess of Pure Delight | Liza |
| This Woman at the Altar | Ensemble |
| ACT TWO | |
| Circus Dream | |
| The Greatest Show on Earth | Ringmaster and Ensemble |
| Dance of the Tumblers | Ensemble |
| The Best Years of His Life | Ringmaster, Charley Johnson and Randy Curtis |
| Tshaikowsky | Ringmaster and Ensemble |
| The Saga of Jenny | Liza and Jury |
| My Ship | Liza |
Notes: The above list is from the theatre programme and differs from what appears on the CD recording:
The song 'The World's Inamorata' is listed on the CD as 'Huxley', The song 'It Looks Like Liza' is listed on the CD as 'Liza, Liza' and is placed as the first song in the Wedding Dream.The song 'My Ship' is listed on the CD as being the sole number in the fourth dream, The Childhood Dream. The CD includes an 'Overture' before the Circus Dream and 'Exit Music' at the end.
James Drefus played the role of 'The Ringmaster' in the 'Circus Dream' sequence.
---
Notes
---
In the theatre production Maria sung to a reduced orchestration transposed to keys set specifically for her. But, for the recording, the Kurt Weill Foundation required that she sung to the original orchestration in the original keys, which is higher than that for the theatre production.
---
Quotes From The Press
---
"...Surprisingly, Maria Friedman turns out to be far better at playing Liza, the cool and often collected editress of Allure Magazine - with her talent for cut and thrust - than as the suffering girl on the verge of a nervous breakdown... Miss Friedman in in sweet voice and artfully holds the balance between drama and music, which Lady in the Dark so cleverly celebrates. It is a rousing occasion." Nicholas de Jongh, The London Evening Standard (12 March 1997)
"...[The Lady in the Dark's] saving grace is Weill's score, which allies the emotional plangency of Berlin period to Broadway idioms...The other good reason for seeing the show, as with Sondheim's Passion, is Maria Friedman's stellar performance. She actually persuades you that inside the professionally masterful but emotionally dithering Liza lurks a badly bruised spirit. She sings the big numbers with a direct lyric simplicity and she allows her Guiletta Massina-like clown instinct to emerge in a circus sequence where she cavorts with the pawkiness of a wild-eyed child. The evening belongs unequivocally to her..." Michael Billington, The Guardian (12 March 1997)
"...By all accounts Gertrude Lawrence was magic as the fashion-mag editor...Maria Friedman, who is fronting what the National claims is the musical's belated British premiere, is not quite so charismatic, but once again she proves herself splendidly versatile, resourceful performer... The supporting cast is fine and Friedman more than fine. When she exits from a big-top fantasy episode to launch first into Weill's celebration of vamps, The Saga of Jenny, and then into his splendedly robust love song, My Ship - well, she had the first-night audience wishing the palm of her hand was larger, so we could spend more time in it." Benedict Nightingale, The Times (12 March 1997)
"...The woman having the crack-up is Liza Elliot, the hotshot editor of a leading fashion magazine. In this role, Maria Friedman is badly miscast. She's too sweet, concessive-looking and breathy to project the drive, authority and magnetism that have got this business-suited woman to the top. It's true that in Sondheim's Passion, Friedman conveyed power, but it was the potency of an implacably loving masochism. Here you need a stronger sense of the enamelled armour Liza has built around herself. For if the charcter in Passion was straightforwardly ugly, in Lady in the Dark, the heroine is found to be compensating for the fact that she was thought unattractive to her parents as a child. It's a discovery that allows the show to employ psychoanalysis to endorse traditional roles. Liza's success has nothing to do with trying to compete on equal terms with men, we deduce from the shrink, rather it's the refusal to risk being hurt by competeting with other women. So of the three complete ciphers who want to marry her, she ends up choosing the one who also wants her job..." Paul Taylor, The Independent (13 March 1997)
"...Despite an excellent cast, Lady in the Dark seems like an exercise in theatrical archaeology... The show isn't helped by the fact that Freudian psychoanalysis, for which Lady in the Dark often seems one long advertisement, is increasingly discredited... What scuppers Lady in the Dark, though, is the ;ack of warmth and audience involvement. Maria Friedman is one of our finest musical-theatre talents, but, although she communicated moments of mental distress as Liza, she never comes close to moving you..." Charles Spencer, The Daily Telegraph (13 March 1997)
"...Friedman has some fascinating contrasts to her - some meltingly soft singing and some defensively tight vibrato, a pug nose and a bulldog chin - that are right for Liza Elliot. But she keeps performing as if she were more interested in artificial stardom than in sincere artisty. When speaking to the shrink, she sounds noble, wronged, pious. When singing in her dreams, she sounds brassy, ingratiating. Ninety per cent of her performance, including the American accent, feels synthetic. Nobody could miss the 10 per cent, mind you. The first time she hums My Ship, with her eyes shut, is the most moving thing in the show; it feels, unmistakably, like the first thing to come from beneath surface level..." Alastair Maculay, The Financial Times (13 March 1997)
"...[Lady in the Dark] gives the formidably-talented Maria Friedman the chance to star as the editrice who gets her life sorted and rejects both hunky Hollywood-star suitor and dull husband-to-be. It's also an excuse for the fabulous song My Ship, which Miss Friedman sings (literally) like a dream..." Robert Gore-Langton, The Express (14 March 1997)
"...Maria Friedman, impish one moment, vulnerable the next, is an engaging Liza... Ancient movies are parodied - Ginger Rogers starred in Lady's screen version - an Ms Friedman in Ginger mode, all teeth and best-profile posturing, is a sight to behold..." Shaun Usher, The Daily Mail (14 March 1997)
"...In Francesca Zambello's revival, Liza is played by Maria Friedman, a very good cabaret singer, who recently won the Olivier Best Actress in a Musical award for her showy performance as the ugly ailing Fosca in Stephen Sondheim's Passion. Here, in a very different role, Friedman sounds spookily the same. She brings a slightly Thatcherite sincerity to lines, slipping into dogged speech patterns, and in signalling thoughts with facial gestures. This editor never convinces us that she has either met a deadline or rewritten a coverline. Friedman's smiley relationship with the audience suggests little darkness worth exploring. Nor much glamour. When, in this Cinderella-ish plot, she gets out of her frumpy office clothes and puts on a supposedly fabulous frock, we are embarrassingly aware of a transformation that hasn't happened..." Robert Butler, The Independent on Sunday (16 March 1997)
"...The show brilliantly exploits the psychoanalytic connection with a series of dream sequences, and Friedman gives a beautifully crafted performance, wounded, puzzled, fiercely controlled and as self-contained as a falling bomb inches from the ground..." John Peter, The Sunday Times (16 March 1997)
"...Maria Friedman's performance as Liza confirms, if confirmation is needed, that she is a major star. She is funny, rueful, pugnacious, full of zest; and while she rightly doesn't try to convey tragic depths in Liza that aren't there, she can be tender and poignant, especially when ever she hums a few notes of the all-important tune that keeps alluding her..." John Gross, The Sunday Telegraph (16 March 1997)
"...Maria Friedman, surely confirmed now as our supreme musical actress, negotiates her backward spiral with exuberant grace and wit, swirling in mists and ballgowns, defiantly zipping on the Schiaparelli frock when she takes off with a movie star hunk and even stepping daintily across a tightrope, in Stoppardian vein, to prove she is a 'proponent of mental acrobatics.' The famous Saga of Jenny, Liza's bump-and-grind hymn to vacilliation, is delivered with enchanting airiness. She seems able to meet the considerable demands of the score without breaking any sort of vocal stride, suggesting Gertrude Lawrence's tinny period trill where appropriate, but mostly recasting the music in her own fresh and immediate manner. Being a natural comedienne helps, too..." Michael Coveney, The Observer (16 March 1997)
---
Cast Recording
---

Recorded 12, 14 and 15 July 1997 at Abbey Road Studios, London.
The Recording and Mixing Engiineer was PETER COBBIN and the the Executive Producer was JOHN YAP.
---
Links
---
---
All content on About Maria is archived here without profit or payment to those who have expressed a prior interest in reviewing the included information for personal use, non-profit research and educational purposes only. This is an unofficial webpage. Contact.