Home > Theatre > Small Expectations
SMALL EXPECTATIONS
or Back to Victorian Values
---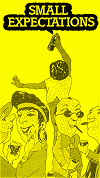 Musical spoof 'torn ruthlessly from the pages of Dickens' by Alastair Beaton and Ned Sherrin with music by Gerard Kenny.
Queen Elizabeth Hall London
Opened 28 March 1986
Closed 31 March 1986
---
Cast
---
Pip
MICHAEL SERAPHIM
Estella Scott
MARIA FRIEDMAN
Little Nell
ANNETTE LYONS
Narrator/
Barry Norman/
Derek Jameson (1)/
Melvyn Bragg/
Toastmaster/
Bob Geldof/
Eamon Andrews/
Ken Livingstone
PHIL CORNWELL
Mr Gargery/
Sir Jasper Jaggers/
PW Botha/
Arts Council Man
TERENCE BAYLER
Mrs Gargery/
Ms Haversham/
The Rt Hon Mrs Margaret Thatcher PC MP
ANGELA RICHARDS
Herbert Pocket/
Prince Bentley/
Young Bobby
TERRY SHEPPARD
Magwitch/
Derek Jameson (2)/
Sir Alistair Burnett/
John Carlisle MP/
Mr Micawber/
Mrs Gamp/
Fagin/
PC Sykes
CHRIS FAIRBANK
South Bank Trio
WENDY BALDOCK
CHRISSIE KENDALL
ANNETTE LYONS
Motot Cycle Messenger/
Julian Lloyd Webber
NICK RAYMOND
Citizens/
Toyboys/
Assorted Media Hacks/
Victims of Feminism
WENDY BALDOCK
SANDY HAMILTON
CHRISSIE KENDALL
ANNETTE LYONS
ROLAND BRINE
NICK RAYMOND
CARL TOOP
---
Production Team
---
| | |
| --- | --- |
| Director | NED SHERRIN |
| Set Designer | DAPHNE DARE |
| Costume Designer | JENNY TIRIMANI |
| Musical Director | JONATHAN COHEN |
| Musical Staging | LINDSAY DOLAN |
| Lighting | BENNY BALL |
| Sound | PAUL FARRAH SOUND |
---
Musical Numbers
---
| | |
| --- | --- |
| ACT ONE | |
| Lovable Cockneys | |
| Islington, Oh Islington | |
| I Was A Wimp | |
| Toy Boys | |
| Pretty Dumb | |
| The Style Rap | |
| A Little Help From Estella | |
| The Day All The Love Songs Came True | |
| The South Bank Show | |
| What's In It For Me? | |
| A Weekend At Windsor | |
| ACT TWO | |
| It's The Eighties | |
| Wapping | |
| Men | |
| Not Funny | |
| Everybody Say Sanction | |
| Victoria Values | |
| Two Fingers | |
---
Quotes From The Press
---
"So, farewell then, GLC. And farewell too the GLC-sponsored satirical revues of Alistair Beaton and Ned Sherrin; having gleefully traduced Gilbert and Sullivan in the Ratepayers' Iolanthe and The Metropolitan Mikado, they now train the pop-gun of their wit on Dickens.
Here, Pip appears as the black adopted son of middle-class 'progressives' from Islington who have emigrated to Billericay; Magwitch is an uncouth reporter from The Sun looking for a heartwarming story; Miss Havisham has turned into "Ms" Havisham, the voracious cocktail feminist editor of Spare Side magazine; her ward is a dumb blonde newsreader by the name of Estella Scott; and Herbert Pocket is a coke-snorting entrepreneur who launches young Pip from his warehouse flat in Docklands.
The up-and-coming graffiti artist gets his face in The Face, appears on The South Bank Show and exhibits at the Tate before learning his true parentage on This is Your Life.
The strength of the authors' earlier outings lay in Sullivan's music, and the signal weakness of this entertainment is not its feeble plot nor its reliance on the weasel bite of topicality so much as the score of the American composer Gerrard Kenny. Despite some highly proficient singing and dancing from Michael Seraphim and Maria Friedman in the principal roles, it is less of an end-of-an-era romp than a trite and unamusing end-of-the-pier show." Martin Cropper, The Times (31 March 1986)
---
All content on About Maria is archived here without profit or payment to those who have expressed a prior interest in reviewing the included information for personal use, non-profit research and educational purposes only. This is an unofficial webpage. Contact.