Home > Concerts > Sondheim Tonight
Home > Recordings > Sondheim Tonight
SONDHEIM TONIGHT
---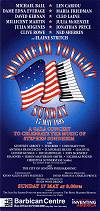 A Gala Concert to celebrate the music of Stephen Sondheim.
Barbican Hall London
Sunday 17 May 1998
Two performances: 4.00pm and 8.00pm
In aid of The Alan Jay Lerner Fund for Research into Cancer at The Royal Marsden Hospital.
---
Musical Numbers and Cast
---
ACT ONE
Introduction by LIZ ROBERTSON
Overture for Stephen Sondheim
ORCHESTRA
Comedy Tonight
(A Funny Thing Happened on the Way to the Forum)
SOLOISTS
Introduction by NED SHERRIN
March to the Treaty House
(Pacific Overtures)
ORCHESTRA
Next
(Pacific Overtures)
ORCHESTRA
The Ballad of Sweeney Todd
(Sweeney Todd)
LEN CARIOU
SOLOISTS
Introduction by LEN CARIOU
Night Waltz
(A Little Night Music)
SOLOISTS
Losing My Mind
(Follies)
MARIA FRIEDMAN
Not While I'm Around
(Sweeney Todd)
CLIVE ROWE
Send in the Clowns
(A Little Night Music)
CLEO LAINE
MARIA FRIEDMAN
CLIVE ROWE
Introduction by JULIA McKENZIE
Stavisky Suite
(Stravisky)
DANCERS
I Remember
(Evening Primrose)
JULIA MIGENES
Green Finch and Linnet Bird
(Sweeney Todd)
JULIA MIGENES
Introduction by NED SHERRIN
A Very Short Violin Sonata
CHRISTINA SUNNERSTAM (violin)
ANTONIA FRANCESCHI (Dancer)
JOEY McKNEELY (Dancer)
The Ladies Who Lunch
(Company)
DAME EDNA EVERAGE
Being Alive
(Company)
SOLOISTS
WEST END CHORUS
Another Hundred People
(Company)
WEST END CHORUS
Sunday
(Sunday in the Park With George)
SOLOISTS
WEST END CHORUS
ACT TWO
A Salute to Stephen Sondheim
ORCHESTRA
Company
(Company]
SOLOISTS
Barcelona
(Company)
JULIA McKENZIE
DAVID KERNAN
Introduction by NED SHERRIN
Good Thing Going/ Not a Day Goes By
(Merrily We Roll Along)
DAVID KERNAN
I Never Do Anything Twice
(The Seven Per Cent Solution)
MILLICENT MARTIN
More
(Dick Tracy)
MARIA FRIEDMAN
SOLOISTS
Variations on a Theme (Katie Malone)
DOMINIC JOHN (piano)
ELAINE STRITCH (via video)
Introduction by LEN CARIOU
Beautiful Girls
(Follies)
MICHAEL BALL
COMPANY
Loving You
(Passion)
MICHAEL BALL
Broadway Baby
(Follies)
MICHAEL BALL
STEPHEN SONDHEIM (via telephone)
Finale
COMPANY
With THE CITY OF LONDON PHILHARMONIC
Soloists
GEOFFREY ABBOTT
TERI BIBB
JOANNE FARRELL
LORI HALEY FOX
D MICHAEL HEATH
LISA HULL
CONNIE KUNKLE
JOSEPH MAHOWALD
SOMIN MASTERTON-SMITH
NICHOLAS POUND
Dancers
SUSIE BOYLE
MAKJELLA CRMPTON
ALLISON MAHONEY
SAM NELSON
SUZANNE THOMAS
ADAM RICHARD JONES
DAVID LEIGHTON
MARTIN MATTHIAS
MATTHEW SKILTON
HANS VANDERPUTTE
---
Production Team
---
Devised and Directed by
HUGH WOOLDRIDGE
Musical Direction by
DAVID FIRMAN
CHARLES PRINCE
Choreography by
KEVAN ALLEN
JOEY McKNEELY
Sound by
MIKE WALKER
JANIS GURR
Costumes by
JOY BONDINI
Set by
RICHARD PLUMB
---
Notes
---
Originally due to be staged for just one performance, an extra matinee performance was added a few weeks before the concert was due to take place.
Jonathan Pryce cancelled, he was due to sing 'Barcelona' with Julia McKenzie (David Kernan took over the part).
Illness forced both Stephen Sondheim and Elaine Stritch to cancel their appearances, hence the video and telephone.
---
Cast Recording
---
The entire concert was recorded on a double CD set.
---
Links
---
---
All content on About Maria is archived here without profit or payment to those who have expressed a prior interest in reviewing the included information for personal use, non-profit research and educational purposes only. This is an unofficial webpage. Contact.