Home > Theatre > Sunday in the Park With George
SUNDAY IN THE PARK WITH GEORGE
---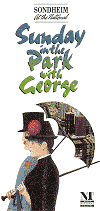 Musical with music and lyrics by Stephen Sondheim and book by James Lapine.
Lyttelton Theatre National Theatre London
Previewed 3 March 1990
Opened 15 March 1990
Closed 16 June 1990
Straight run
This was the show's London West End premiere.
In nineteenth-century France, Georges (Philip Quast) struggles with his art and his personal life. George is completely engrossed in his artwork - in particular A Sunday Afternoon on the Island of La Grande Jatte - when his pregnant girlfriend, Dot (Maria Friedman), leaves him to find a more supportive man. Meanwhile, Georges continues on with life, repainting anything he finds unpleasant. In Act Two, the musical takes places in America in 1984. Now, Georges' great-grandson, George (Philip Quast), is struggling to find inspiration in his artwork. He is helped when the spirit of Dot returns with some wise words.
---
Cast
---
ACT ONE
George
PHILIP QUAST
Dot
MARIA FRIEDMAN
An Old Lady
SHELIA BALLANTINE
Her Nurse
NUALA WILLIS
Franz
MICHAEL O'CONNOR
Boy Bather
KEIR CHARLES or
SAMUEL WOODWARD SMALL
Boy Bathers
CHRISTOPHER LINE
MARC BELLAMY or
MARCO WILLIAMSON
JAMES NYMAN
Jules
GARY RAYMOND
Yvonne
NYREE DAWN PORTER
A Boatman
MICHAEL ATWELL
Celeste #1
MEGAN KELLY
Celeste #2
CLARE BURT
Louis
ANEIRIN HUWS
A Soldier
NICOLAS COLICOS
Louise
NAOMI KERBAL or
ANN GOSLING
Frieda
DI BOTCHER
Man Playing the Horn
BARRY ATKINSON
Dancing Girl
ANTONIO BOYD or
EMILY SAULT
Woman Looking for a Glove
ELLEN van SCHUYLENBURCH
Mr.
MATT ZIMMERMAN
Mrs.
VIVIENNE MARTIN
ACT TWO
George
PHILIP QUAST
Marie
MARIA FRIEDMAN
Dennis
MICHAEL O'CONNOR
Bob Greenberg
GARY RAYMOND
Naomi Eisen
NYREE DAWN PORTER
Harriet Pawling
NUALA WILLIS
Billie Webster
VIVIENNE MARTIN
Charles Redmond
MATT ZIMMERMAN
Alex
NICOLAS COLICOS
Betty
CLARE BURT
Lee Randolph
MICHAEL ATTWELL
Blair Daniels
SHELIA BELLANTINE
Elaine
DI BOTCHER
Chromalume Performers
BARRY ATKINSON
ANEIRIN HUWS
MEGAN KELLY
ELLEN van SCHUYLENBURCH
A Waitress
BUFFY DAVIS
A Photographer
SIMON FIELDER
Guests
STEPHEN HANLEY
ERIKA VINCENT
---
Production Team
---
| | |
| --- | --- |
| Director | Scott Pimlott |
| Designs | Tom Cairns |
| Lighting | Wolfgang Gobbel |
| Orchestrator | Michael Starobin |
| Musical Director | Jeremy Sams |
| Choreographer | Aletta Collins |
| Chromolume #7 | Martin Duncan |
---
Musical Numbers
---
ACT ONE
Sunday in the Park with George
Dot
No Life
Jules
Yvonne
Color and Light
Dot, George
Gossip
Celeste #1, Celeste #2, Boatman, Nurse, Old Lady, Jules, Yvonne
The Day Off
George, Nurse, Franz, Frieda, Boatman, Soldier, Celeste #1, Celeste #2, Yvonne, Louise, Jules, Louis
Everybody Loves Louis
Dot
Finishing the Hat
George
We Do Not Belong Together
Dot, George
Beautiful
Old Lady, George
Sunday
Company
ACT TWO
It's Hot Up Here
Company
Chromolume #7
George, Marie
Putting It Together
George, Company
Children and Art
Marie
Lesson #8
George
Move On
George, Dot
Sunday (reprise)
Company
---
Notes
---
Sunday in the Park with George was the first of three musicals created by Stephen Sondheim with writer and director James Lapine. The other ones being Into the Woods and Passion. (The London West End production of Passion also featured Maria Friedman).
The performance on Wednesday 14 March 1990 was a Royal Gala performance.
At the 1991 Olivier Awards Sunday in the Park with George won two awards and was nominated for another four:
Maria Friedman received her first Olivier Award nomination, for the 'Outstanding Performance of the Year by an Actress in a Musical Award', the award was won by Imelda Staunton for Stephen Sondheim's Into The Woods.
Sunday in the Park with George won the 'American Express Award for Best New Musical Award' and Philip Quast won the 'Outstanding Performance of the Year by an Actor in a Musical'.
The other nominations were: Sue Blane for 'Best Costume Designer' (won by Jasper Conran for The Rehearsal), Steven Pimlott for 'Best Director of a Musical' (won by Richard Jones for Into The Woods) and Tom Cairns for 'Best Set Designer' (won by Mark Thompson for The Wind In The Willows).
---
Quotes From The Press
---
"...The concept is more than worthy of its Pultizer Prize. The music, like the painting, comes in sharp, precise points with sounds replacing colour. And if nothing of this fires your imagination or thrills your admiration as it does mine, then go and see the iridescent Maria Friedman give glorious life to Dot, the downtrodden semi-literate mistress Seurat immortalised with gaint perspective in the forefront of his painting..." Jack Tinker, The Daily Mail (16 March 1990)
"...Maria Friedman, doubling as the artist's mistress and daughter, combines a powerful voice with accessible wit." Tessa Finch, The Daily Expres (19 March 1990)
"...Maria Friedman (as Dot) doesn't always give Sondheim's dazzling lyrics their due, but she has a splendid voice and launched the evening in bracing style with the title number..." Clive Hirschhorn, The Sunday Express (18 March 1990)
"...Friedman's spirited Dot is the only principal whose voice and personality both come strongly over the footlights..." Benedict Nightingale, The Times (16 March 1990)
"...Maria Friedman, as both Dot and her 98 year old daughter Marie, also confirms she is an authentic star: she brings an earthy comedy to the chafing restrictions of Dot's existence, sings with note-true poignancy and has the gift of what Stanislavski called 'public solitude'..." David Billington, The Guardian (17 March 1990)
"...Maria Friedman acts hauntingly and sings beautifully as the mistress..." Kenneth Hurren, The Mail on Sunday (18 March 1990)
"...Maria Friedman is perky and delightful as Seurat's mistress, but as a squealing bent grandmother she makes a grating, unlikely old lady..." Milton Shulman, The London Evening Standard (16 March 1990)
"...There is also a very strong performance from Maria Friedman as Seurat's mistress, Dot, an uneducated girl who is shamelessly exploited by him but remains humorous and resilient to the last..." John Gross, The Sunday Telegraph (18 March 1990)
"...Maria Friedman's marvellous performance as Dot, which manages to suggest (sometimes simultaneously) the earthy, grumpily frustrated girl who would rather be at the Folies and the sensitive young woman who has been spiritually awakened by the beauty of her lover's art..." Irving Wardle, The Independent on Sunday (18 March 1990)
---
Links
---
---
All content on About Maria is archived here without profit or payment to those who have expressed a prior interest in reviewing the included information for personal use, non-profit research and educational purposes only. This is an unofficial webpage. Contact.