Home > Theatre > The Woman in White > The Palace Theatre
THE PALACE THEATRE
---
The musical The Woman in White is being staged at The Palace Theatre in London's West End, more information on the musical.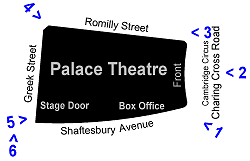 The Palace Theatre is an 'island' theatre, that is it stands alone with roads on all four sides. View Street Map. It is located on the West side of Cambridge Circus, a very busy cross roads between Shaftesbury Avenue and Charing Cross Road which is traffic light controlled.
The theatre has a 20 metre (66 feet) frontage that opens out onto a pedestrian area. The front has an ornate glass and iron work canopy which extends around the sides.

View One: Front of the theatre, Shaftesbury Avenue is on the left. The Box Office is located on the side, notice the raised canopy. This is where the 'Returns' queue is expected to be. There is no access to the theatre's auditorium from the Box Office.

View Two: Front view of the theatre from Cambridge Circus, Shaftesbury Avenue is on the left, Romilly Street is to the immediate right of the theatre.

View Three: Close up view looking down Romilly Street, from the front end of the theatre. Romilly Street curves round to the right. This is a single lane cobbled street and is one-way (with cars moving away from you as seen in the photo). The pedestrian path is smooth paving slabs, not cobbles. Generally not many vehicles use this street.

View Four: View of the theatre from the other end of Romilly Street. Romilly Street is on the left side, Greek Street is on the right. Shaftesbury Avenue can also be seen in the back ground on the far right of the view. The large black scene dock opening can be clearly seen. Greek Street has two lanes of traffic (which can get fairly busy) and is one way, with the traffic moving away from you as viewed in the photo. The Stage Door is located at the far end of Greek Street.

View Five: View from Shaftesbury Avenue. Greek Street is on the left and Shaftesbury Avenue is on the right. The Stage Door is clearly seen. It opens out onto a 1.9 metre (6 feet) wide path.

View Six: From Shaftesbury Avenue looking up Greek Street with the Palace Theatre on the right.
---
All content on About Maria is archived here without profit or payment to those who have expressed a prior interest in reviewing the included information for personal use, non-profit research and educational purposes only. This is an unofficial webpage. Contact.