Home > Theatre > Chicago
CHICAGO
---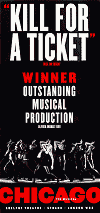 Musical with music by John Kander, lyrics by Fred Ebb and book by Fred Ebb and Bob Fosse based on the play by Maurine Dallas Watkins.
Adelphi Theatre London
Previewed 27 October 1997
Opened 18 November 1997
Still running
Maria was in the show from 16 November 1998 to 12 June 1999 and returned from 11 October 1999 to 12 February 2000.
---
Maria on Chicago
---
"I thought they'd gone insane when they asked me [to do Chicago] It's a show full of sexy, slinky, gorgeous, leggy people. Which is not the way I, or anybody else, has ever perceived me." [read full interview]
"It's sexy and funny, and has a difficulty that appeals to me. But there is also something very freeing about its physicality. For many years much of the work that I've done has been in my head." [read full interview]
---
Cast (November 1998)
---
Go-To-Hell Kitty
VANESSA LEAGH-HICKS
Velma Kelly
NICOLA HUGHES
Roxie Hart
MARIA FRIEDMAN
Fred Casey
NICK WINSTON
Sergeant Fogarty
CAVIN CORNWALL
Amos Hart
PETER DAVISON
Liz
CAT LAWRENCE
Annie
RACHEL STANLEY
June
SUZY BLOOM
Hunyak
ROBBIE O'REILLY
Mona
JACQUI JAMESON
Matron 'Mama' Morton
DIANE LANGTON
Billy Flynn
CLARKE PETERS
Mary Sunshine
C SHIRVELL
Harry
NEIL JOHNSON
Aaron
JASON GARDINER
The Judge
NEIL JOHNSON
Bailiff
DARREN CARNALL
Martin Harrison
SERGIO COVINO
Court Clerk
DARREN CARNALL
The Jury
RICHARD REYNARD
Swings
EDWINA COX
ALISTAIR DAVID
HEATHER DOUGLAS
JO ELLERY
ADRIAN GOODFELLOW
---
Cast (December 1999)
---
Go-To-Hell Kitty
VANESSA LEAGH HICKS
Velma Kelly
VALERIE PETTIFORD
Roxie Hart
MARIA FRIEDMAN
Fred Casey
SERGIO COVINO
Sergeant Fogarty
EDWARD HAYES-NEARY
Amos Hart
NORMAN PACE
Liz
C JAY RANGER
Annie
RACHEL STANLEY
June
FLIK SWAN
Hunyak
LEIGH CONSTANTINE
Mona
TIFFANY GRAVES
Matron 'Mama' Morton
SUE KELVIN
Billy Flynn
JOHN DIEDRICH
Mary Sunshine
C SHIRVELL
Harry
CHRIS JARVIS
Doctor
EDWARD HAYES-NEARY
Aaron
SPENCER STAFFORD
The Judge
EDWARD HAYES-NEARY
Bailiff
DAN RYMER
Martin Harrison
SIMON BREEN
Court Clerk
DAN RYNER
The Jury
PATRICK KIENS
Swings
EDWINA COS
LISA DONMALL
ADRIAN GOODFELLOW
ANNA LOWE
STEVEN PALING
---
Principal Cast Changes
---
Date/Cast
Roxie
Velma
Amos
Billy
Mama
27 Oct 97
Ruthie Henshall
Ute Lemper
Nigel Planer
Henry Goodman
Meg Johnson
25 May 98
Gavin Cornwall
?? June 98
Clarke Peters
13 July 98
Nicola Hughes
17 Aug 98
Joel Grey
16 Nov 98
Maria Friedman
Peter Davidson
Diane Langton
17 May 99
Anna Montanova
Michael Siberry
14 June 99
Fredrike Haas
9 Aug 99
Norman Pace
16 Aug 99
Chita Riveria
Valerie Pettiford
11 Oct 99
Maria Friedman
15 Nov 99
Peter Davidson
John Diedrich
Sue Kelvin
11 Dec 99
Norman Pace
14 Feb 00
Josefina Gabrielle
Anna Jane Casey
Les Dennis
---
Production Team
---
| | |
| --- | --- |
| Director | Walter Bobbie |
| Choreography | Ann Reinking in the style of Bob Fosse |
| Musical Director | Gareth Valentine |
| Scenic Designer | John Lee Beatty |
| Costume Designer | William Ivey Long |
| Lighting | Ken Billington |
| Sound | Rick Clarke |
| Orchestrations | Ralph Burns |
---
Musical Numbers
---
| | |
| --- | --- |
| ACT ONE | |
| All That Jazz | Velma and Company |
| Funny Honey | Roxie |
| Cell Block Tango | Velma and the Girls |
| When You're Good to Mama | Matron |
| Tap Dance | Roxie, Amos and the Boys |
| All I Care About | Billy and the Girls |
| A Little Bit of Good | Mary Sunshine |
| We Both Reached for the Gun | Billy, Roxie, Mary Sunshine and the Company |
| Roxie | Roxie and the Boys |
| I Can't do it ALong | Velma |
| My Own Best Friend | Roxie and Velma |
| ACT TWO | |
| Entr-acte | The Band |
| I Know a Girl | Velma |
| Me and My Baby | Roxie and the Boys |
| Mister Cellophan | Amos |
| When Velma Takes the Stand | Velma and the Boys |
| Razzle Dazzle | Billy and Company |
| Class | Velma and Matron |
| Nowadays | Roxie and Velma |
| Hot Honey Rag | Roxie and Velma |
| Finale | Company |
---
Notes
---
During her break from Chicago, Maria filmed Joseph and the Amazing Technicolor Dreamcoat.
After her break she was expected to return to the musical on 16 August 1999, but this was delayed until 11 October 1999.
---
Quotes From The Press
---
"...The show was gloriously reclaimed last night by Maria Friedman succeeding Ruthie Henshall as Roxie Hart, on trial for shooting a lover boy...Ute Lemper is replaced as Velma by 23-year-ild Nicola Hughes... She is the big, beautiful Hardy to Miss Friedman's chipper, comic and rather sad little Laurel. The bigness of Friedman's revelatory performance, though, is completely sensational..." Michael Coveney, The Daily Mail (3 December 1998)
"...The trouble is that while the show retains its bare flesh, minimal staging and little black dress approach, Nicola Hughes's Velma and Maria Friedman's Roxie don't quite fit the fishnet tights of their predecessors. They are far too nice and wholesome, failing to exude the faintest whiff of menacing sexiness. They are both kittens, when what the role and staging demand is that they be tigers posing as pussy cats. Friedman's Roxie, in particualr, appears to believe every single word that she says and sings. With that vulnerable bruised face of hers, you want to believe that there are extenuating circumstances when clever old Kander and Ebb signal definately that there are none. It is not talent that is at issue her, but casting and direction. Friedman and Hughes are exceptional performers, and in other circumstances they would almost certainly shine. But their natural warmth - and Friedman's instinct for the comic - are out of place in the cold, shiny, sexy, brittle world that is Chicago." Lyn Gardner, The Guardian (3 December 1998)
"...if the two new female stars are not so neat a match as Ruthie Henshall and Ute Lemper, there is a comic and energetic devilmment in Maria Friedman's Roxie and some astonishing high kicks from the Velma of Nicola Hughes - though she fades more than she should when her rival's fame eclipses her." Jeremy Kingston, The Times (4 December 1998)
"...A year ago, this came across as a cynical production of a briliantly cynical show. Fascinatingly, Chicago now has a heart of darkness. The secret is in the casting. Last year, it was all star turns. Now we are seeing a properly told story... When it was announced that Maria Friedman was taking over as Roxie, the big question was: could see dance it? No worries. Snapping the brim of her bowler and kicking up her heels, she is sensational. In her magnetic solo, she loses herself in a fantasy of ego, humming ecstatically to herself, and her arousal fills the theatre. Her voice shimmers breathily and her character's dream of stardom is thrillingly made flesh. Better still is the scene in which meets her husband - beautifully playee by Peter Davidson - after she is released. In her moment of triumph she has been abandoned by the press. Her eyes widen in the darkness and her voice cracks as she whispers: 'They didn't even want my picture.' A tiny moment, but shockingly touching. You thought you knew Chicago? Look again." David Benedict, The Independent (4 December 1998)
"...Henshall and Lemper have now left, but it is a pleasure and a relief to report that Chicago has lost none of its famous razzle-dazzle... Maria Friedman seems finally to have found the role she has been waiting so long for, the one that is going to turn her into the major star she deserves to be. If this performance doesn't do the trick, nothing will. She may lack Henshall's dark beauty, and I suspect she would not describe herself as a natural dancer - though she certainly goes for it with vim - but she has an astonishing intelligent and mischievous vitality. She also sings superbly, laying bare every ounce of irony and wit in every number." Charles Spencer, The Daily Telegraph (4 December 1998)
"...A year on, with the major parts recast, Kander and Ebb's Chicago, at the Adelphi Theatre, packs even more of a punch than it did when it opened...Maria Friedman takes over as Roxie, the ex-chorus girl who finally rises to stardom on the strength of a murder charge. Anyone who has heard Friedman knows that she is an outstanding singer; now she demonstrates that she can dance, too, with plenty of pep. And her acting is sharper than that of her predecessor, Ruthie Henshall. She's more mischievous, more-worldly-wise..." John Gross, The Sunday Times (6 December 1998)
"...The new cast has one stunning asset: the extraordinary Maria Friedman, whose dynamic energy and brilliant stage-sense guarantees a sexy, sassy, high-precision show. She doesn't put a foor wrong, or a note. Iy's a complete performance in a small frame packed with raunchy cuteness. When she sings you listen; every word tells, clean and purposeful, and with a breath-control that any opera singer would be pleased to duplicate. How she can be so animated and produce a pure, firm sound, I can't imagine. But she does, and it's a joy..." Michael White, The Independent on Sunday (6 December 1998)
---
Links
---
---
All content on About Maria is archived here without profit or payment to those who have expressed a prior interest in reviewing the included information for personal use, non-profit research and educational purposes only. This is an unofficial webpage. Contact.