Home > Television & Video > Joseph and the Amazing Technicolor...
JOSEPH AND THE AMAZING TECHNICOLOR DREAMCOAT
---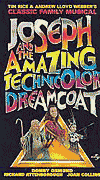 Musical with music by Andrew Lloyd Webber and lyrics by Tim Rice.
Originally released on video in the UK on 8 November 1999, subsequently released on DVD in the UK on 16 October 2000
Film version of the stage musical - based upon the London Palladium theatre production of 1991 which starred Jason Donovan.
---
Maria on Joseph
---
"I do love live audiences, the energy you get from them can't be replaced by a camera. But when I saw myself on screen afterwards, it didn't look like me, it was much better. Two hours of make-up: no bags, no lines, nothing. And they've even got this digital thing to make my teeth whiter... I'd love to do more filming, but I put on a stone because all you do is eat. In the theatre you don't get to know people that well, because you're always in the wings in the dark. In a film you're there for months, all day, so we laughed and ate for three months together." [read full interview]
---
Cast
---
Joseph
DONNY OSMOND
Narrator
MARIA FRIEDMAN
Jacob
RICHARD ATTENBOROUGH
Potiphar
IAN McNEICE
Potiphar's Wife
JOAN COLLINS
Pharaoh
ROBERT TORTE
Butler
ALEX JENNINGS
Baker
CHRISTOPHER BIGGINS
Rueben
NICHOLAS COLICOS
Benjamin
NICK HOLMES
Gad
PETER CHALLIS
Isaachar
PATRICK CLANCY
Asher
MARTIN CALLAGHAN
Dan
SEBASTIEN TORKIA
Judah
GERRY McINTYRE
Levi
DAVOD J HIGGINS
Napthali
SHAUN HENSON
Simeon
JEFF BLUMEN-KRANTZ
Zebulun
MICHAEL SMALL
Wife 1
LISA STEVENS
Wife 2
NIKKI BELSHER
Wife 3
NICOLA KEEN
Wife 4
BRENDA NEWHOUSE
Wife 5
JOCELYN HAWKYARD
Wife 6
SANDI BIRCH
Wife 7
LUCIE PANKHURST
Wife 8
ZOE HARDMAN
Wife 9
GABRIELLE NOBLE
Wife 10
SUZANNE THOMAS
Wife 11/
Apache Dancer
AMANDA COURTNEY-DAVIES
Girl Swing 1
DEBBIE BUNDY
Girl Swing 2
SARAH MOGG
Male Swing 1
WAYNE FOWKES
Male Swing 2
MATTHEW CUTTS
---
Production Team
---
Director
STEPHEN PIMLOTT
DAVID MALLET
Choreographer
ANTHONY VAN LAAST
Associate Choreographer
NICHOLA TREHERNE
Music Director
MICHAEL REED
Orchestrator
JOHN CAMERON
Designer
MARK THOMPSON
---
Musical Numbers
---
ACT ONE
Prologue
Narrator
Any Dream Will Do
Joseph, Children
Jacob & Sons
Narrator, Brothers, Jacob, Joseph
Joseph's Dreams
Narrator, Joseph, Brothers
Poor, Poor Joseph
Narrator, Brothers, Ensemble
One More Angel In Heaven
Levi, Brothers, Ensemble
Potiphar
Narrator, Potiphar, Mrs.Potiphar, Joseph
Close Every Door
Joseph
Go, Go, Go Joseph
Narrator, Butler, Baker, Joseph, Ensemble
ACT TWO
Pharaoh Story
Narrator Ensemble
Poor, Poor, Pharaoh
Narrator, Pharaoh, Ensemble
Song of the King
Narrator, Pharaoh, Ensemble
Pharaoh's Dream's Explained
Pharaoh, Joseph, Ensemble
Stone the Crows
Narrator, Pharaoh, Joseph, Ensemble
Those Canaan Days
Reuben, Brothers
The Brother's Come to Egypt/Grovel, Grovel
Brothers, Joseph, Ensemble
Who's the Thief
Narrator, Joseph, Ensemble, Brothers
Benjamin Calypso
Judah, Brothers
Joseph All the Time
Narrator, Joseph, Ensemble, Brothers
Jacob in Egypt
Narrator, Ensemble
Finale
Joseph, Narrator, Full Company
Joseph Megamix
Company
song listing from cast recording
---
Notes
---
This video was filmed at Pinewood Studios in Buckinghamshire, UK.
Maria took a break from her starring role in the musical Chicago from June to October 1999 inorder to film her role in this video.
The UK release 'headlined' three actors - Donny Osmond, Richard Attenborough and Joan Collins - on the front packaging but the USA release 'headlined' four actors - Donny Osmond, Maria Friedman, Richard Attenborough and Joan Collins.
---
Cast Recording
---

22 tracks

---
Links
---
---
All content on About Maria is archived here without profit or payment to those who have expressed a prior interest in reviewing the included information for personal use, non-profit research and educational purposes only. This is an unofficial webpage. Contact.