Home > Interviews > Metro Newspaper March 2003
Theatre Profile: From rags to riches
---
Metro Newspaper 11 March 2003
Warwick Thompson talks to the star of 'unproduceable' musical Ragtime and its move to the West End.
"We got into the grotty rehearsal room in Lambeth, and there were so many flies I thought there was a dead body decomposing in the corner," says Maria Friedman with a shudder. "There was also a wasps' nest. And I had my six-week-old baby with me. And I was doing the performance for no money. I would have walked out after ten minutes if the music hadn't been so fantastic."
The acclaimed actor/singer and double Olivier Award winner is recalling rehearsals for a Cardiff concert performance of Ragtime.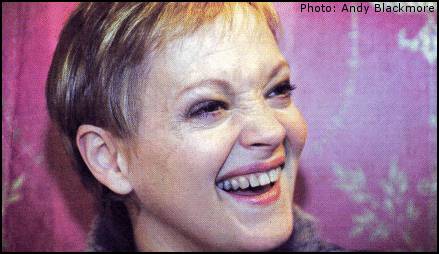 This so-called 'unproduceable' musical ran for two years on Broadway and picked up four Tony awards, but its grand scale subsequently defeated all attempts to bring it to London. But if prospects have now improved for the show (West End previews started on Saturday), things have got even better for Friedman, who plays the lead role of Mother. Her quaint nook-and-cranny cream dressing room in a corner of the Piccadilly Theatre is light years from the hell-hole of Lambeth. She's also no longer in a concert performance but starring in a full staging. And she's getting paid.
Flaherty and Ahrens's musical Ragtime tells the intertwined story of three very different families (white middle class, Russian Jewish immigrant, educated black) in New York in the early years of the 20th century. The background is fleshed out with a host of real historical figures, such as Houdini, Booker T Washington and radical communist Emma Goldman. I asked Friedman to describe the journey of her character.
"She's a symbol of all things maternal. i think of her with her arms always open in a wide embrace," she says. "But she also makes instinctive decisions which wreck situations - they create chaos in the short term, but in the long term are an improvement. For example, she takes in a mixed-race child, and begins to question her marriage - pretty shocking stuff in this period."
In EL Doctorow's novel, the source for the show, Mother begins to find her independence while her husband is away exploring the globe. "It's the same here. But what's so beautiful is that she also finds independence within the marriage when he comes back. And i think it's still the case today for lots of women. You don't have to leave someone if you don't agree with everything that they are, as long as they don't oppress you. If you can find the breath in your lungs to cope with somebody else's very dominant opinions, you'll be fine. Mother goes through a deep internal struggle, and makes a gentle discovery of herself - she becomes liberated without being aggressive."
The show's panoramic structure and grand scale have scared off producers in the past. What's the deal now? "When we did the concert performance in Cardiff last year, we did it without a stick of set and just had the odd costume. And it became clear that this so-called unproduceable musical is anything but. It had simply been over-produced in the past. You don't need huge bits of scenery to whizz around the stage. Stafford Arima, the director, is producing an exquisitely simple staging, clean and classy, focusing on the story and the characters."
Friedman's second child is now seven months old. Does she find a special connection with her character? "I find this over and over again in the roles I play, that the parallels with my life are uncanny," she laughs. "My partner is a Russian Jew, and my home life currently includes a mixed-race child. The final tableau of the musical shows me with a Russian Jew and a mixed-race child. It's my home, there on stage. It's ridiculous. My mother has strictly forbidden me ever to play a murderer."
---
All content on About Maria is archived here without profit or payment to those who have expressed a prior interest in reviewing the included information for personal use, non-profit research and educational purposes only. This is an unofficial webpage. Contact.