Home > Theatre > Ragtime
Home > Television & Video > Ragtime
Home > Concerts > Ragtime
RAGTIME
---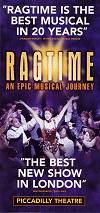 Musical with music by Stephen Flaherty, lyrics by Lynn Ahrens and book by Terrence McNally based on the novel by E.L.Doctorow.
Concert Version
St David's Hall, Cardiff
Saturday 26 October 2002
Theatre Version
Piccadilly Theatre, London
Previewed 8 March 2003
Opened 19 March 2003
Closed 14 June 2003
This was the musical's European Premiere. The concert version was staged as part of the first International Festival of Musical Theatre which was held in Cardiff (Wales, UK) from 13 October to 3 November 2002. This concert version was subsequently broadcast on television.
E.L.Doctorow's novel Ragtime comes to vibrant life in this musical portrait of three very different American families - an African-American family, a Jewish immigrant family, and a wealthy suburban WASP family. In a cavalcade of life at the turn of the century, their fictional lives become dramatically intertwined with one another as well as with factual characters and events including Henry Ford, Harry Houdini and the sinking of the Lusitania.
Doing it for themselves: Sonia and Maria Friedman insist there's no sibling rivalry, just combined talent, on Ragtime... though big sister can be a little bossy - read the full interview from The Independent (6 March 2003)
Theatre Profile: From rags to riches: Warwick Thompson talks to the star of 'unproduceable' musical Ragtime and its move to the West End - read the full interview from Metro newspaper (11 March 2003)