Home > Interviews > The Independent March 2003
Doing it for themselves
---
The Independent 6 March 2003
Sonia and Maria Friedman insist there's no sibling rivalry, just combined talent, on Ragtime... though big sister can be a little bossy. By Sam Marlowe.
"It's stupid talking about yourself, isn't it?' says Maria Friedman, squirming in her seat and screwing up her pretty face. It's an oddly self-deprecating remark for an actress widely regarded as one of musical theatre's biggest talents. Her performances in Stephen Sondheim's work, in The Witches of Eastwick, Chicago, and her one-woman shows, have won her accolades and a clutch of awards. Yet Maria claims she still doesn't feel she's achieved anything.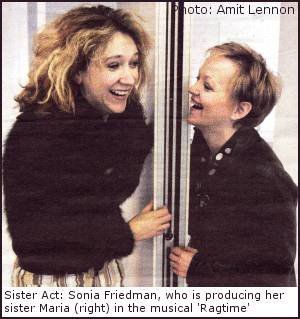 Perhaps it's because brilliance is the norm in the almost freakishly talented Friedman family. Her father was Leonard Friedman, the world-famous violinist, her mother a concert pianist. Maria is the third of their four children. The eldest, Richard, is also an acclaimed violinist, and Maria's older sister, Sarah, is an internationally regarded scientist.
And then there's the youngest, Sonia, a highly respected theatre producer. Sonia's passion is for new plays, rather than musical theatre, so her career path and Maria's have rarely crossed. But now the two sisters are joining forces for Ragtime a new musical based on E L Doctorow's powerful novel of social turmoil in turn-of-the-century America.
I'm talking to Maria in a pokey dressing room, as soaring voices drift through the wall from the rehearsal studio next door. She's exhausted - she's working hard and, has a seven-month old baby, Alfie, and an eight-year-old son, Toby. But although she laments her appearance, tutting when a button on her silk blouse inadvertently pops open ("Sorry, I'm breastfeeding - nothing fits!"), she's radiant. Her eyes sparkle and her remarks are punctuated by bursts of bright laughter. She's obviously enjoying her work hugely, and there's never been any shortage of public recognition. So why the reticence about her success? "I don't really know what achievement is, because there's always something new to discover. It's the journey, not the arriving, that's interesting."
Travel, of one sort or another, has always been a feature of Maria's life. Her father's career took him all over Europe, so the family was constantly on the move. Maria says this drew them together. "We relied on each other. I've rarely come across a closer family. I can't think of a moment when I haven't wished all of them well." Sensing that she's in danger of gushing, she laughs, "That sounds revolting, doesn't it?"
Globetrotting took its toll on her education, however "I failed miserably at school. I left at 15 without any idea of what I was going to do." Maria was a promising cellist, but gave up due to "a lot of pain in my hands - I'm double-jointed", she says, stretching out her fingers to show me how they curl uncannily backwards. So she took various dead-end jobs before spotting an ad for backing singers. She'd had no training but could read music and thought singing might beat being a tea girl. She auditioned and got the job. "It was a terrible, terrible group - startlingly bad," she chuckles. But it was a start, and she'd found her talent.
Nowadays, she chooses work that offers "complexity, heart and soul". Ragtime fits the bill. The show, which won four Tony awards on Broadway, interweaves the story of three early-20th-century American families with actual historical events and figures, such as the activist Emma Goldman, car manufacturer (and Nazi) Henry Ford and illusionist Harry Houdini. Most strikingly it raises the issues of immigration and racism in scenes that are both pertinent and, for musical theatre, unusually hard-hitting.
It was largely this lack of sentimentality that attracted Sonia, Maria's producer sister, to Ragtime. Maria maintains that there has never been any sibling rivalry between them, but confesses wistfully that she covets her sister's hair. When I meet Sonia in her airy office above the New Ambassadors Theatre in the West End, I can see why. Sonia's hair, in contrast to Maria's short, neat, blonde locks, is a wild, thick mass, as unrestrained as Sonia herself. Instantly likeable, she says exactly what she thinks - often in salty language - and she laughs loudly, raucously and often.
At 37, Sonia is five years younger than Maria. Her education was as turbulent as her sister's until she was sent to St Christopher's, a progressive boarding school in Letchworth. "It was the best thing that ever happened to me. When I went there I was a write-off. By the age of 16, I knew who I was, I liked myself and I was looking forward to life."
Armed with new self-assurance, she left school and worked for two years backstage at London theatres, learning what she could. At 18 she went to Central School of Speech and Drama to train in stage management, gaining a job at the National Theatre soon after graduating. Then, in 1993, she heard that artistic director Max Stafford Clark was leaving the Royal Court. With typical impatience and aplomb, she approached him about forming a new company to produce cutting-edge drama. He agreed, and Out of Joint, now one of Britain's foremost touring companies, was born.
By 1998, though she was itching for a new challenge, and moved to the commercial sector, joining the Ambassador Theatre Group. Her own company, Sonia Friedman Productions, was formed as a subsidiary of ATG last year, and since then she has brought such star names as Madonna, Woody Harrelson, Gillian Anderson and, shortly, Minnie Driver and Matthew Perry, into the West End. It seems a far cry from the days when she was working in high-minded, subsidised theatre, a self-styled "arts council babe" to whom "commercialism was a dirty word". But it's a criticism she's ready for.
"We've got to create an energy in the West End. If a handful of actors who happen to be famous because they're in movies choose to come to London to do a play, naturally they're going to get attention. I'm not going to defend doing that work, because audiences want to see it. I think it's great to give theatre a kick up the arse. And if it puts theatre on front pages, that's great too." She unarguably achieved the latter with the comedy Up For Grabs, which, though panned by the critics, was the West End's hottest ticket thanks to its star; one Mrs Ritchie. What was it like working with the queen of pop?
"I was never starstruck when I was in the room with Madonna, because that was business," she says. "But the first time I went to meet her I had to go and sit in a bar and have 10 cigarettes beforehand. I suddenly realised how she'd influenced my life - the cowboy boots I bought two years ago, or the belt, or just that whole thing of 'I'm a woman, I'm out there, I'm doing my thing, I don't give a shit'. I was incredibly honoured to work with her."
So, from big stars, to big sister. Sonia seems as excited about Ragtime as Maria, but being so close, don't they row? "All the time. I may be her producer but I'm also her little sister and, hey" - she affects a bossy tone - "let's not forget it!"
With their equally strong views, sharp minds and formidable talents, any fight between Maria and Sonia would be pretty evenly matched. Together, though, I suspect they might just be unbeatable.
---
All content on About Maria is archived here without profit or payment to those who have expressed a prior interest in reviewing the included information for personal use, non-profit research and educational purposes only. This is an unofficial webpage. Contact.