Home > Recordings > Maria Friedman (Broadway Baby)
MARIA FRIEDMAN (BROADWAY BABY)
---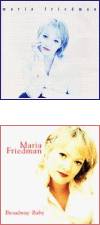 Debut 'self titled' solo album.
This album contains songs that Maria used at her concert shows By Special Arrangement and the subsequent By Extra Special Arrangement.
This album has been re-titled, re-packaged and re-released as 'Broadway Baby'. (Bottom graphic)
Recorded at Angel Studios, Metropolis, Olympic Studios, Skratch Studios and Westside Studios
Date ?? 1995
---
Production Team
---
Produced by
NIGEL WRIGHT
Engineered by
ROBIN SELLARRS
Musical Director
MICHAEL HASLAM
Album Co-ordination
COLIN SMITH
Produced by arrangement with Corner Table Productions Ltd
---
Musical Numbers
---
I Happen to Like New York
Music and lyrics by Cole Porter
Arranged by Jason Carr
The Man With a Child in His Eyes
Music and lyrics by Kate Bush
Arranged by Caroline Humphris
The Golden Days
Music Leo Feree, English lyrics by Jeremy Sams
Arranged by Daryl Runswick
If You Go Away
Music by Jacques Brel, English lyrics by Rod McKuen
Arranged by Jeremy Sams
I'm Gorgeous
Music and lyrics by Jerry Bock and Sheldon Harnick
Arranged by Martin Koch
My Romance
Music by Richard Rodgers, lyric by and Lorenz Hart
Arranged by William Loveday
In the Sky
Songs from the Vilna Ghetto
Translations from the Yiddish by Jeremy Sams
Arranged by Michael Haslam
Paris in the Rain
Music Cora Vaucaire, English lyrics by Jeremy Sams
Arranged by Jeremy Sams
Play the Song Again
Music by Jacques Brel, English lyrics by Richard Stilgoe
Arranged by Jason Carr
A Nursery Rhyme (Toby's song)
Anonymous
Arranged by John Owen Edwards
The Man That Got Away
Music by Harold Arlen, lyric by Ira Gershwin
Arranged by Jason Carr
Guess Who I Saw Today
Music and lyrics by Murray Grand and Elisse Boyd
Arranged by Missak Takoushian
Finishing the Hat
Music and lyrics by Stephen Sondheim
Arranged by Michael Starobin
Now and Then
Music by Michel Legrand, English lyrics by Jeremy Sams
Arranged by Jeremy Sams
Broadway Baby
Music and lyrics by Stephen Sondheim
Arranged by John Owen Edwards
---
Notes
---
A pre-release three track promotional CD was issued of this album which contains the tracks 'The Man That Got Away', 'Paris in the Rain' and 'I Happen to Like New York'.
In the sleeve notes Maria commented briefly on each song on the album:
I Happen to Like New York: You bet I do!
The Man with the Child in his Eyes: This a story as old as the sea - the man who can't commit, and the woman who won't believe
The Golden Days: This is an extraordinary song by the late great Leo Ferre which I hijacked. I asked Jeremy Sams to write a lyric about childhood (specifically mine) and the vexed questions of whether my memories, good or bad, are 'real or coloured by hindsight. I'm none the wiser.
If You Go Away: This song to me is like listening in to someone's most private hopes and fears. Very painful. Very personal.
I'm Gorgeous: What can I say about this song except... I agree... it's true... I am.
My Romance: The idea of a solo guitar arrangement seemed fitting for a song about simple it is to make music and make love.
In the Sky: This was written in 1941 by a twelve year old boy who was living in the Vilna ghetto. The Jewish community held a competition to encourage people to write about ghetto life. He won that competition. This song is as timely now as then. The voice of the individual is still crying out amid the ravages of war. aAnd still no-one listens.
Paris in the Rain: There are hundreds of love songs about Paris, but now that it's on our doorstep here is the first Channel Tunnel love story, or 'chanson de shuttle'.
Play the Song Again: The original French lyric by Jacques Brel is surreal and untranslatable, so Richard Stilgoe provided us with an all too familiar story. A woman wronged goes barking mad before our very ears.
A Nursery Rhyme (Toby's song): Once upon a time there was a song about a lion eating a little girl. Then one day the big bad copyright agency arrived and swallowed up the rights. So we wrote a new tune and new words and hey presto there was a new song, which was sung happily ever after. This one's for my son Toby to enjoy as he grows up.
The Man That Got Away: In an ideal world this song wouldn't mean anything to anyone. As it is, the emotions are all too familiar. This one's for us girls!
Guess Who I Saw Today: I love this song, with its surprise twist at the end which we all spot a mile off. My mother who is unassailably optimistic is still convinced that it's a sweet love song with a happy ending.
Finishing the Hat: This seemed to me to be the only grown-up song about what it is to be an artist and live in the real world. How do you square love and relationships with concentration and creativity?
Now and Then: When I first heard this one I was so moved I had to have a bit of lie down! It's a hell of a song and a hell of a sing.
Broadway Baby: This isn't just a showbusiness song. It's a song about the real hopes and dreams we all have which are completely possible but always just out of reach.
Maria also gave the following personal thanks you's:
Thanks to the band for everything they gave me and everything they taught me.
Thanks to the arrangers whose imagination and skill inspired me.
This album is dedicated to my mother and father with love and thanks.
---
All content on About Maria is archived here without profit or payment to those who have expressed a prior interest in reviewing the included information for personal use, non-profit research and educational purposes only. This is an unofficial webpage. Contact.