Home > Theatre > Square Rounds
SQUARE ROUNDS
---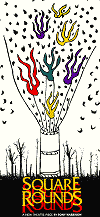 A theatre piece by Tony Harrison with music by Dominic Muldowney.
Lyttelton Theatre National Theatre London
Previewed 25 September 1992
Opened 1 October 1992
Closed 16 January 1993
Played in repertory
Directly inspired by events during the Gulf War, Square Rounds looks at the history of relations between the East and the West, and warfare in particular.
---
Maria on Square Rounds
---
"I have a bit of a problem with the idea of stardom. I don't think I could make the necessary sacrifices in my life to become a star. In the past, I've always ducked out just as things are hotting up. I'm terrified of being owned and boxed in. I love my freedom and I like the freedom to fail, too. Over the past five years I have been in some shows, such as Tony Harrison's Square Rounds at the National, which have been absolutely massacred by the press. If you're a star something like that can destroy you." [read full interview]
---
Cast
---
Munitionette/
Sir William Crookes
GILLIAN BARGE
Munitionette
JO CAMERON BROWN
Munitionette
HELEN CHADWICK
Munitionette
MARY CHATER
Munitionette/
Hiram Maxim
PAOLA DIONISOTTI
Munitionette/
Clara Haber
MARIA FRIEDMAN
Munitionette/
Hudson Maxim
JENNY GALLOWAY
Munitionette
ELAINE HALLAM
Munitionette
SUE HOLLAND
Munitionette/
Fritz Haber
SARA KESTLEMAN
Munitionette
SONYA LEITE
Munitionette
MAGGIE McCARTHY
Munitionette
MYRA McFADYEN
Munitionette
JANE NASH
Munitionette
THERESA PETTS
Munitionette
JULIET PRAGUE
Munitionette
EMMA RODGES
Munitionette
MANY SHORT
Munitionette/
Justus von Liebig
SIAN THOMAS
Munitionette/
Lady Nellie Crookes
ANGELA TUNSTALL
Munitionette
CATHERINE WHITE
Shell-shocked man/
Chinese magician
ARTURO BRAGHETTI
(up to 16 Oct)
LAWRENCE EVANS
(from 17 Oct)
Sweeper Mawes
HARRY TOWB
---
Production Team
---
| | |
| --- | --- |
| Director | Tony Harrison |
| Designer | Jocelyn Herbert |
| Lighting | Mick Hughes |
| Choreographer | Lawrence Evans |
| Magic consultant | Ali Bongo |
| Costume transformations | Arturo Brachetti |
---
Quotes From The Press
---
"...The standard of acting is very high, with compelling performances from Sara Kestelman as Haber, Maria Friedman as Clara and Sian Thomas as the chemist Von Liebig..." Kirsty Milne, The Sunday Telegraph (4 October 1992)
"...A sweetly-voiced Maria Friedman singing Dominic Muldowney's haunting tunes..." Paul Taylor, The Independent (3 October 1992)
---
Links
---
---
All content on About Maria is archived here without profit or payment to those who have expressed a prior interest in reviewing the included information for personal use, non-profit research and educational purposes only. This is an unofficial webpage. Contact.