Home > Interviews > Theatre Magazine May/June 1998
A passion for performance
---
Theatre Magazine May/June 1996
Her role in Sondheim's Passion tops a period in which Maria Friedman's star has definitely been in the ascendant, yet she remains engagingly down-to-earth. Stephen Hunt talks to Maria Friedman.
One of the greatest theatrical pleasures of the last 10 years has been witnessing the rise and rise of Maria Friedman. From her first leading West End role in Blues In The Night, through Ghetto and Sunday In The Park With George at the National, to her Olivier Award-winning By Special Arrangement shows at the Donmar Warehouse, she has been a beacon of talent and vitality who, just in terms of artistic integrity, has left most of her contemporaries in the shade.
Adam Faith, whose business partner Alan Field brought Maria's one-woman show to the West End, says: "When I watch Maria on stage I see Marlene Dietrich... I see Noel Coward... I see Judy Garland. She really is in that league."
If you have yet to discover her, I can only urge you to make your way to the Queen's Theatre in Shaftesbury Avenue, where her performance as 'Fosca' in Stephen Sondheim's latest musical, Passion, will leave you in no doubt that Maria Friedman is truly one of the greats.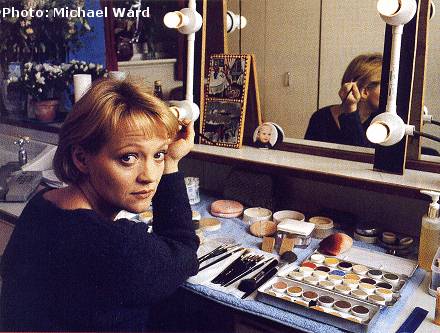 Her haunting performance caps an incredibly fulfilling 18-month period which has seen her become a mother, win an Olivier Award, release her debut solo album and receive enormous critical acclaim in By Extra Special Arrangement at the Whitehall and The Break Of Day at the Royal Court. The former is likely to be taken to Broadway either this Autumn or next Spring, depending on the success of Passion.
The American opening is seen by many to represent Maria's final step into the premier league, with international stardom being its inevitable reward. It is a move, however, about which she is ambivalent.
"I have a bit of a problem with the idea of stardom," she says, trying vainly to eat a cheese and pickle sandwich and answer my questions simultaneously. "I don't think I could make the necessary sacrifices in my life to become a star. In the past, I've always ducked out just as things are hotting up. I'm terrified of being owned and boxed in. I love my freedom and I like the freedom to fail, too. Over the past five years I have been in some shows, such as Tony Harrison's Square Rounds at the National, which have been absolutely massacred by the press. If you're a star something like that can destroy you.
"I want to have a long career and to do the best work. If that means I also have to become a star then I'll have to take that on board but, so far I've managed to do the work without that added pressure."
Clearly Maria doesn't envy the attention her co-star Michael Ball receives at the Stage Door. Yet she will defend him to the hilt if his more commercial career is criticised.
"Quite frankly, it's thanks to Michael that we all have jobs and what's impressive about him is that he has approached Passion at its highest artistic level without wanting to reshape it to suit his own persona. Michael and I have very different personalities and want different things but it would be unfair to say that he has taken the wrong career path. He has a wonderful lifestyle, the most loyal fans I have ever seen, and he has bought himself choice - and he's chosen to do Passion. I think that's admirable and it also means that we have had full houses loving Stephen Sondheim."
Such comments reveal so much about Maria Friedman. She is remarkably down-to-earth for one who has been lavished so recently with high praise, and she shuns the bitchiness that prevails in some showbusiness circles. She is also painstakingly honest - a quality that, should she become more well-known, will no doubt be misconstrued as difficult behaviour.
"I was having my photograph taken for a newspaper the other day and was asked if I would put my head to one side and smile. I heard myself say, 'No!' because I was being asked to pose in an unreal way. A photo of me is a photo of me - full-stop, and that's how I want it. The industry will hype a performer to such an extent that you don't know where the real person is amongst it all. I prefer uncompromising souls like Vanessa Redgrave. She could have been one of Hollywood's biggest but, in the end, she couldn't do it. She's brilliant because she's her own woman. She believes she has something to say.
"I've turned down a lot of the big commercial musicals because I thought they would restrain me rather than allow me to grow, so I suppose it's important for me to keep my identity for some reason. But I don't think that's about being a star, because I am quite happy to go out of the Stage Door with no-one waiting for me."
If not starry-eyed, Maria is certainly ambitious and comes from a musical family of high achievers, including her late father Leonard, a violinist whom she idolised.
"I think my drive comes from a deep-seated need to prove people wrong. I was a complete no-hoper at school and, coming from such a bright family as mine, I've always felt the need to right a lot of preconceived ideas about my abilities. In a large family, each child has to find a voice and, as mine couldn't be gained the smart way, I had to find another route."
Surprisingly, despite playing the cello as a child and being surrounded by music at home, Maria's singing ability was not realised in childhood and to this day she has not had a single singing lesson.
"I couldn't get into the choir at school and I still don't really think I'm a good singer. I'm a good interpreter of songs. That's quite different. I try to communicate emotion as honestly as I can so that the audience will know that I am the same as them. It's a quality that I recognise a great deal in Sondheim's work - particularly Passion as it must rank as his most emotional piece to date. I love its humanity.
"So often in musicals, the birds are singing, the sun is shining, everyone can tap dance and all the girls look gorgeous in their pretty gingham dresses. I always think people must leave those shows thinking, 'My life is terrible!'. Whereas Sondheim's characters are much more complex and therefore believable.
"I'm not somebody who likes to pretend the world is a better place than it is. I enjoy the light and dark of the world. Running away from that is not, I think, a courageous way to behave in life. Similarly, as an actress, you've got to tell the truth. When I perform a song in concert, I always picture in my head a part of my life, such as an emotional break-up, and I know that if I really think those thoughts clearly and tap into a genuine place in me, it's like a string that links me to a person in the audience who will have their own experiences to draw on.
"Anyone with a pulse can understand the sentiments of a song like If You Go Away. We have all experienced the fear of losing a lover, parent or friend. If you can tap into that shared emotion, a catharsis occurs and a knowledge that we are not alone in the world. It sounds highfaluting and people will probably think I'm a ridiculous woman - but I believe it. And I feel it from the audience, too. I know when it's worked or when it's gone wrong. I feel it completely."
Being such a dedicated performer, it is perhaps unsurprising that Maria's childhood heroine was Judy Garland.
"The look in her eyes touched me so deeply, particularly in those early films," she says. "She was so generous with what she offered from herself and I can quite understand how it destroyed her. Performing can be a terribly lonely thing to do. People think that you get love from an audience but you don't you get adulation. The audience enjoys Maria Friedman, The Performer but the real Maria Friedman is somebody else with her own needs. It's important to strike a balance between one's work and family life.
"Of course, my priorities have changed enormously since my son Toby was born. I look at my career now and it seems far less important than my job as a mother. I've still got to get my head around the idea that it's all right to be a working mother. I'm very torn. The fact that I'm not there all the time is his loss. It's massively my loss too, but I can't pretend it's not my choice. When I am with Toby, I'm never happier. He is the centre of my life and he has made it so much more worthwhile."
---
All content on About Maria is archived here without profit or payment to those who have expressed a prior interest in reviewing the included information for personal use, non-profit research and educational purposes only. This is an unofficial webpage. Contact.